By popular choice from our customers and great value for money, all are standard rosettes are made in tight box pleat. We can still make rosettes in ruffle pleat (POA)
Tight Pleat is tighter than the standard Box but not as full as the ruffle. It has height and is value for money, (this is our most popular) All our rosettes our fitted with 50mm centres. The 2nd 2 tier in the table below is for 2 colour rosette or can be made into a 3 colour rosette priced at £1.20 each.
Sample Rosette

1 Tier

2 Tier

2 Tier
3 Tier
4 Tier
Price

Approx Size

Extra tails £

10p

10p

10p

10p

10p

Every word change around disc is @ £1.00

Minimum Order Quantity is £20.00
All the above tiers in the chart are for plain ribbon;
If you require any of the Gold, Silver, Printed, Pattern or Tartan range please add -
£0.20p for the 1st tier, £0.25p for the 2nd tier, £0.30p for the 3rd tier.
The colour combination is your choice, if you require help or would like something different please ask.
What is included ? Rosettes will come with the name of your event around the edge, a placing or motif in the centre in hot foil gold and a fixing of your choice, (eg- tape/tie, safety pin or bridle hook) is all included in the price. If you need a printing block to your own motif / requirements then you will need black & white art work. This service is available please ask.
| | |
| --- | --- |
| | Tartan Ribbon not all shades in stock |
Centre Boards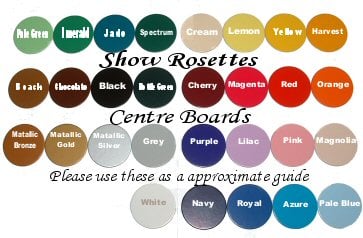 Click to view larger picture
Stock Rosettes
We do have a range of Stock Rosettes which some are available in our shop, these do have a placing or motif but do not have outside wording. These again are made in tight box pleat. More tiers & motif's are available please ask. - No Minimum Order Quantitys on stock rosettes.

From - 1 tier - £0.90p 2 tier - £1.10p 3 tier - £1.65
Own Motif - Die
Hot Foil-

To have your own motif in the centre disc using hot foil, artwork needs to be emailed as a jpeg. The cost for the die to be made is £24.00 unless you already have one made then you can forward it to us, for us to use.
Colour Centres

are available by 2 methods -
Lazer printed stickers which go over carboard centre disc add 15p per centre, or
Metal centre prices from +50p added per rosette.
Printed Tails
Any wording available in different type set, may also be able to add a logo/pic there maybe a set up charge of £3.00 plus £0.25p per tail.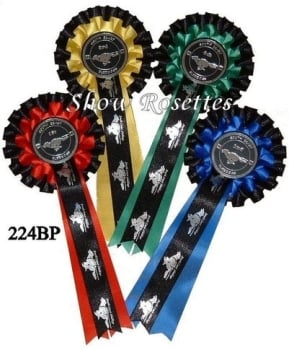 Ribbon Printing
If you require something a little more personal to your rosettes, you can have your logo printed on the ribbon. Whether you use it down the tails or have it pleated the choice is your. The cost of the block to be made will be £30.00 if you have your own art work. Then we will quote you accordingly for the price of the rosettes for the printed ribbon, depending how you would like them.
To right: South Coast Sleddogs - Opted for their logo to be printed down the tails.